The SOFIN Echelle spectrograph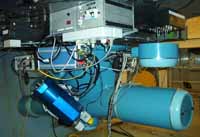 SOFIN at Cassegrain, with Piskunov's Loral which was commissioned 01/2002 (foto R. Rekola)

SOFIN was originally a joint project of Crimean and Helsinki Observatories.

SOFIN is a high-resolution Echelle spectrograph provides a resolution of R=27000-170000. SOFIN also offers spectropolarimetry.

As of period 57, SOFIN is only offered to do circular spectro-polarimetry with the medium-resolution (R~80,000) camera.

SOFIN is not a common-user instrument, but is only supported during fixed periods by Dr. Ilya Ilyin (ilyin@aip.de), AIP, Potsdam and/or Dr. Jyri Lehtinen (lehtinen@mps.mpg.de), MPS, Göttingen. Before applying, prospective users should obtain explicit approval for the use of SOFIN from Dr. Thomas Hackman (thomas.hackman@helsinki.fi), from the University of Helsinki, and Dr. Maarit Käpylä (kapyla@mps.mpg.de), from the Max Planck Institute in Göttingen.
SOFIN efficiency
Some examples of SOFIN spectra